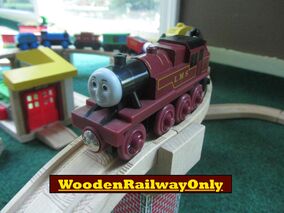 Woodenrailwayonly joined YouTube on July 27, 2010, and is a member of Tank Engines Studios.
.

Beginnings
Woodenrailwayonly started on YouTube on July 27, 2010. He is still active today and is on Season 5 of his series, Tales From The Rails. Woodenrailwayonly was inspired by all the TWR users on YT at the time and wanted to do the same as they did, create a series and do reviews. Woodnrailwayonly wasn't all TWR until 2012, due to being young, but now he realized what it takes to have the name, Woodenrailwayonly.
Tales From The Rails
Tales From The Rails started in the summer of 2012, with the first episode, Road Trip. The series is still going on, as in Season 5. Woodenrailwayonly hopes to make the series as long as he can, and keep the uploads coming including movies, episodes, and reviews.
Operation Domination
Operation Domination is Woodenrailwayonly's first movie, supposedly coming out July 27, 2014. It was uploaded in 3 parts, part 1 on August 18th, part 2 on August 20, and part 3 on the 24th. He also uploaded the full movie later that day. It was about a new engine who arrives on Sodor, and is very polite, but is he not what he seems to be. While the new engine takes the trust of other engines, Thomas finds some stowaways are on the railway, which are D199, Splatter, and Dodge, and they are a team, also including one engine whose name is BCE, and they are trying to take over Sodor, calling it Operation Domination. For them to take over Sodor they first must take over the Magic Railroad, which they do, but forgot about Lady. So, Lady tells Thomas about the news, and Thomas tries to stop him but he can't because, he cannot find him! So when D199 takes the railway, he kidnaps engines and shunts them off the line in the Magic Railroad, including Percy. So Thomas is determined to find and rescue Percy, with help of now trustworthy friend, who betrays D199 to stop the madness.
Gallery
Ad blocker interference detected!
Wikia is a free-to-use site that makes money from advertising. We have a modified experience for viewers using ad blockers

Wikia is not accessible if you've made further modifications. Remove the custom ad blocker rule(s) and the page will load as expected.