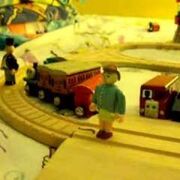 Waylon8tor was one of the first TWR users when he joined on May 16, 2007. He was known as Super Sonic Studios, Ffarquhar Railway Media, and James and Mike Productions.
Series
Waylon was the second ever TWR user to have a series, after Tom Dublin. His series was called Thomas The Tank Engine and Friends Adventures. He came out with his first episode on May 31, 2007 called Diesel and the Coaches. He would also make Tomy episodes with his Tomy trains. His last TWR episode would be How James & Mike Met. It would be episode 17 of his series and it was also a two part episode. His last video however, was a video on his rare wooden trains.
Departure
Less than a year after making his account, Waylon would leave YouTube. His final video was called "Re: my rare Thomas trains." This video was put out on October 25, 2007, less than six months after creating his account. Waylon would go on to be the inspiration for Keekre24's series. He would check in on YouTube from time to time, usually accepting friend requests. This would go on through the end of 2008. Waylon hasn't been on YouTube since 2008. Strangely before YouTube did their recent update, when his old discussion on his channel was visible, he said he was going to return to YouTube but this never happened. While his time on YouTube was short, Waylon will always be remembered as one of the original TWR Community members.