Vincente22 (Vincent S.) is a TWR user who joined YouTube in Spring 2016 and started making Thomas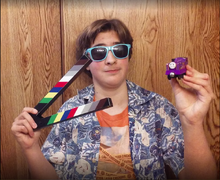 content in November of that year. He is currently rebooting his series and is active on twitter, where he makes memes for the show and others's series.
First Videos:
Vincent's first TWR videos were for Season 1 of his series "Sodor Adventures". They were relatively unprofessional, alternating between dental floss to pull the engines and just using his hands. He did not use a set, and filmed both outside and inside. The dialogue was ad-libbed, however the stories were thought out in advance. They were generally poorly made, but Vincent still believes that they are watchable.
Strange Success:
Despite most of his videos being TWR related, Vincent got his big break with a video entitled "Thomas Season 20 Crashes and other Accidents", which included just that. Vincent made the video just for fun, but as of now, the video has over 4 Million views, sparking Vincent's semi success. Despite reaching 10,000 subscribers due to this video, Vincent is still somewhat unknown in the community for his actual TWR content.
Reviewing:
After making Thomas videos for a while, Vincent discovered several other TWR user's accounts and was inspired by the likes of MrConductorFan1406, MrMPS, and WoodenRailwayReviews to make his own TWR reviews in the style of a continuous story wrapping through each review. These reviews were better quality than his original series, and he still is continuing the story, although he is planning to release reviews far less often and with more improvements.
Twitter:
In April of 2017, Vincent created his twitter account to interact with other people in the community. His big start was making memes for the Grease and Oil podcast with Vinnie and MPS, but branched out to making memes for turtlesandthomas, SideKickJason, EnterprisingEngine93, and others. He enjoys interacting with fellow community members on a daily basis.
Plans for the future:
Vincent plans to reboot his series Sodor Adventures with a second season with a completely new style, including using detailed sets, steady HD camera, scripts, and effects. He plans to release the first episode by Spring 2018, as well as releasing a new episode about every month, with 10 episodes. Many remakes are also in the works to release in conjunction with Sodor Adventures and filmed in the same style. After this, He also has an idea for a completely new series which he may pursue in the years ahead. He plans to continue with his reviews, having written out a story for the next year, although he will not make them as frequently.
Ad blocker interference detected!
Wikia is a free-to-use site that makes money from advertising. We have a modified experience for viewers using ad blockers

Wikia is not accessible if you've made further modifications. Remove the custom ad blocker rule(s) and the page will load as expected.