TidmouthKippers, formerly known as OliverTheJams (Jams for short), is a user who joined YouTube on October 22, 2012 under the username olivertoadandduck.
The Start
To start his channel, Jams made a few TWR remakes. These, however, were not good due to the poor lighting, shaky camera, the sound of TWR track, and poor audio. He did a few in the course of 3 or 4 days, and hardly got any views. He was quick to take a break, and took a lengthy hiatus before returning to making TWR videos...
Return to TTTE & TWR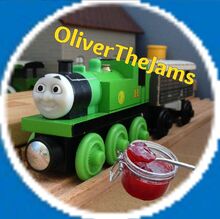 On March 20, 2015, Jams returned, with remaking episodes being his main focus.
(More to be added)
Ad blocker interference detected!
Wikia is a free-to-use site that makes money from advertising. We have a modified experience for viewers using ad blockers

Wikia is not accessible if you've made further modifications. Remove the custom ad blocker rule(s) and the page will load as expected.