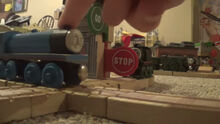 Thomas Wooden Journeys is a series created by Montagueduck48.
List of Episodes
Mind My Paintwork
Boiler Explosion
Buried Alive
Gordon and The Circus
Thomas, Toby and The Bike Train (Upload date unknown)
TBA
TBA
TBA
TBA
TBA
Early Episodes
In the first few episodes John had to use Youtube Capture because he could find a good editing software.
Later Episodes
In "Gordon and the Circus", John finally got a better editing software called iMovie, but Episode 5 was running late because his iMovie was bugging out on him.
Skarloey The Birthday Engine and More
His first feature length special "Skarloey The Birthday Engine" was cancelled because of iMovie crashing. So he did a series called "Thomas Wooden Journeys Shorts". He Only Did One Short. It is unlikely That John will do more shorts.
Current Status
The current status of the series is unknown, but is most likely cancelled since there hasn't been an episode in over a year.
Ad blocker interference detected!
Wikia is a free-to-use site that makes money from advertising. We have a modified experience for viewers using ad blockers

Wikia is not accessible if you've made further modifications. Remove the custom ad blocker rule(s) and the page will load as expected.