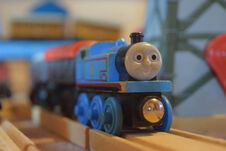 ThomasNo01 aka Thomas No.1 join the twr community on june 18 2017
June 22 2012 though June 14 2017
He join youtube on july 22 2012, and made his first video on june 19 2015, and went on doing his first season of his series (doing stuff in-between like a trailer for his first movie and a discussions and a music video). When he got done with season 1 he made his first movie called Diesel island and went on doing his first collection tour, and then his second layout tutorial and then went on to season 2. After season 2 he made his second movie named Mainland Rescue. After Mainland Rescue he did a short series called A Railway Show Comes To Sodor. But the finale episode had to be change to a different day, so he had to make the finale episode on the season 3 layout. After he was done with his short series he did a couple of discussions. And then he did his second collection tour and after that he made a How To Make a Thomas and Friends Wooden Railway Layout. He was going to make a remake of Tender and turntable, but it was canceled because of copyright. He also made a collection tour of his Thomas and Friends DVDs and VHSs he had. And then he upload a channel trailer.
A Railway Show Comes to Sodor series
The originals A Railway Show Comes to Sodor series was going to be outside with track sets without a layout with a staring put the trains. It was then change to be a indoor series with almost the same thing as the outside one, but the sets was going to be with blankets and pillows.
Cameras
Koaak EasyShare C875 (For Season 1 layout tutorial, Season 1 Episode 1 and My Custom Engine discussions Only)
Sony DCR DVD (For Season 1 Episode 2 though Episode 9 and a Accidents will Happen Music video only)
Nikon D3300 (Current Camera)
Ad blocker interference detected!
Wikia is a free-to-use site that makes money from advertising. We have a modified experience for viewers using ad blockers

Wikia is not accessible if you've made further modifications. Remove the custom ad blocker rule(s) and the page will load as expected.