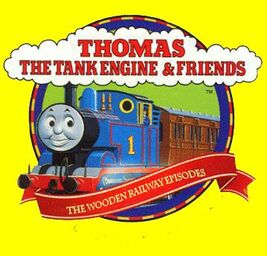 ThomasWoodenEpisodes
is a French member of
The Thomas Wooden Railway Community
 that joined on August 24, 2012 by making remakes. He is the first French user in the community. His name is Corentin.
First Videos and Remakes
Corentin's first video was for WoodenRailwayReviews ThomasWoodenRailway and jlouvier's Wooden Railway Competition. He recieved responses from Rob, and Josh. He later tried his own remakes after receiving some suggestions and began with Rusty Helps Peter Sam. He continued some remakes before making a review on his 1992 BoCo. For his very first remakes, Corentin has used a dark green carpet for the ground and wooden trees. Then on his reamke of "Bulgy" he has changed a lot of things like changing his dark green ground by a lighter green realistic ground, using realistic trees, fake bushes etc...
Gaining Popularity
After his 1992 BoCo review he did 3 remakes in which each of them gained 1,000 views by Christmas 2012. He has continued to do more remakes that are getting a reasonable amount of views. He has done a good set of remakes and planned to do episodes of his series and sometimes reviews. ThomasWoodenEpisodes is very known by his very detailed sets, his scenery and for his creativity. Corentin has become popular in the ThomasWoodenRailway Community today. He has done lots of special videos and he has uploaded his first episode of his series. ThomasWoodenEpisodes has more than 1,450,000 video views.
In The Community Today
Today, Corentin keeps doing his remakes. He has done lots of special videos, uploaded his second episodes of his series as well as his second review on Ada, Jane and Mabel. He has also done a second unboxing video on his 1997 Instant System set #4.
Around Christmas 2013, ThomasWoodenEpisodes has gotten a new scene and new lights for his videos. He still uses it today.
He has become good friends with many of the TWR members. Corentin has more than 2,200 subscribers. He has a Twitter and a Skype to connect with the other members of the community.
Buying More TWR Items
When Corentin first joined YouTube, he had a quite small collection of TWR Items because Thomas and Friends isn't popular in France and he could not buy TWR Items in France. Then he had started to buy TWR Items on Ebay. After buying lots of new Items from Ebay, ThomasWoodenEpisodes's collections began to grow up.
Remakes
ThomasWoodenEpisodes's usual videos are remakes. Corentin has decided to make remakes because he doesn't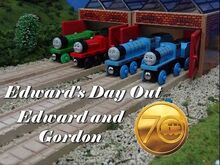 have to speak. Since he is French, he sometimes has trouble speaking English. His most popular remake is his remake named "Come Out, Henry!" which has over 650,000 views. ThomasWoodenEpisodes remakes classic Thomas & Friends episodes from Season 1 to Season 6.