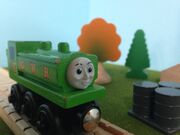 ThomasWoodenAdventures 
a.k.a. 
Ty
, was a member of the Community who joined YouTube on June 14, 2013. He uploaded remakes, and was going to start a
series
in November 2015. 
The Beginning
Ty has always liked Thomas The Tank Engine. It wasn't until June 2013 when Ty released his first video. "Big Engines" is about the Tender Engines stating that they're more superior, Thomas gets angry, and causes an accident. The video didn't really become popular but it created a path to a bright future. The original name to the channel was "thomasbuilderbro". ThomasWoodenAdventures was inspired by ThomasWoodenEpisodes.
2013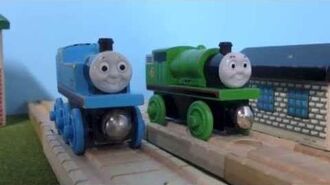 In 2013, ThomasWoodenAdventures wasn't as popular as it is now. He had about 25 subscribers, and about 50 views per video. Ty enjoyed ThomasWoodenEpisode's remakes and Oliver Duck's reviews. ThomasWoodenAdventures released a video called, "Accidents Happen". It was a video about Thomas teasing Gordon, which causes him to crash. This video was taken down on February 5, 2014. It was supposed to be Episode 1 of Season 1.
Backgrounds
ThomasWoodenAdventures started out on a simple carpet layout. He then moved to a sky background with a green mat (an exercise mat). He more recently worked on a detailed grass mat, with four blue boarders. He used rocks, Learning Curve trees, model train trees, signs, signals, and buildings.
Remakes
ThomasWoodenAdventures has made seven remakes so far. His first was "Daisy", then came "Oliver Owns Up", soon he made, "Thomas Gets Tricked", his remake, "A Close Shave for Duck", and finally "Henry's Special Coal" on July 10th, 2014. He also wanted to make, "Donald and Douglas", "Special Funnel", "Grandpuff", and "Time for Trouble". But after those remakes he didn't make any, until January 2015, when he uploaded "Percy, James, and the Fruitful Day". Then, he took another break, this time for almost 9 months. He uploaded his final remake that October, and never made another one since.
The End
ThomasWoodenAdventures left the community on June 26th, 2016. He stated a video might pop up, but he has since then not been active.
Links
Link to ThomasWoodenAdventures' Channel.