ThomasUltimate1213 is a Thomas & Friends YouTuber, that has been around since April 2, 2013. He is mostly known for his Thrift Store Finds series and his Thomas Wooden Railway Reviews.
Early Years
Some of ThomasUltimate1213's early videos consisted of a short remake from "Thomas and the Magic Railroad" and a Video of his Thomas Wooden Railway Collection. His other early uploads consisted of clips from the shows "Salty's Lighthouse", and "TUGS"
Return
After manily focusing on upload clips and episodes from "Thomas and Friends", "Theodore Tugboat", and "TUGS" ThomasUltimate1213 continued to produce Thomas Wooden Railway videos starting with reviews of Charlie, Victor, Duck, and Rusty. ThomasUltimate1213 has described these newer reviews as cringe-worthy.
Thomas Wooden Railway Masterpieces
ThomasUltimate1213 has recently started a remake series based on Frank's TWR's series "Thomas Wooden Railway MonsterPieces". The series was created after seeing that all the episodes were removed from YouTube, ThomasUltimate1213 decided to make his own series. So far he has produced "Thomas Gets Tricked" and "Rusty to the Rescue".
Note Worthy Videos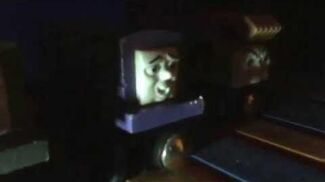 l
Ad blocker interference detected!
Wikia is a free-to-use site that makes money from advertising. We have a modified experience for viewers using ad blockers

Wikia is not accessible if you've made further modifications. Remove the custom ad blocker rule(s) and the page will load as expected.