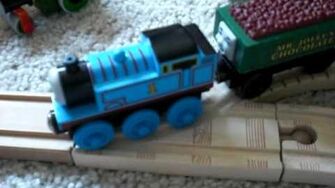 "Thomas' 4th of July" is the thirteenth episode of ThomasWoodenRailway's series Thomas the Tank Engine and Friends Wooden Railway Adventures, and is the thirteenth episode of Season 1.
Plot
Sir Topham Hatt tells Thomas to take the Sodor Cookie Cars to Elsbridge Station in preparation for the 4th of July activities. Farmer McColl needs the ingredients for something he is baking, but Sir Topham Hatt does not know what it is. While pulling the train, however, Thomas accidently cuts Emily off and she crashes into Thomas's train, knocking the cars off the rails. Luckily, Emily is pulling the breakdown train with her, and soon the mess is cleaned up. When Thomas arrives at Elsbridge Station, he is surprised to find out that Farmer McColl needs the ingredients so he can bake a cake for Thomas's Driver and Fireman. The cake turns out very well, and Thomas thanks Farmer McColl for being so generous to his hard-working crew.
Cast
Thomas
Emily
Farmer McColl (not seen)
Thomas's Driver (not seen)
Thomas's Fireman (not seen)
Henry (cameo)
Toby (cameo)
Henrietta (cameo)
Rickety (cameo)
Oliver (cameo)
Toad (cameo)
Stepney (cameo)
Bulgy (cameo)
Tigermoth (cameo)
Annie (cameo)
Clarabel (cameo)
Fergus (cameo)
Frank (cameo)
Ben (cameo)
Mike (cameo)
Rheneas (cameo)
Edward (cameo)
Harold (cameo)
Thumper (cameo)
Butch (cameo)
George (cameo)
Workmen (mentioned)
Lorry 1 (cameo)
Boco (cameo)
Terence (cameo
Bertie (cameo)
Fred (cameo)
Duck (cameo)
Sodor Bay Tugboat (cameo)
Spencer (cameo)
Trivia
First episode not to introduce any new characters to the series.
This episode was originally uploaded to Keekre24 on July 4, 2008. It was reuploaded to ThomasWoodenRailway on March 15, 2009.
Although Farmer McColl, Thomas's Driver, and Thomas's Fireman speak during the episode, there are no models used to portray them.