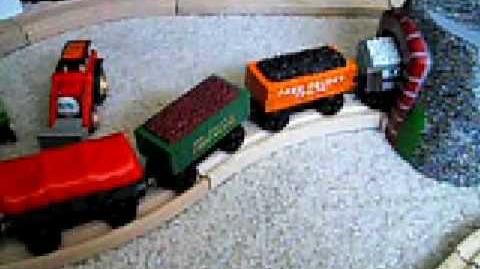 "The Trouble with Trucks" is the first episode of 
ThomasWoodenRailway
's series 
Thomas the Tank Engine and Friends Wooden Railway Adventures
, and is the first episode of Season 1.
Plot
Thomas has worked on his branchline with his two coaches, Annie and Clarabel, for many years, but The Fat Controller decides it's time for a change. Thomas is sent to the Docks to pull trucks while Duck takes Annie and Clarabel. The trucks play tricks on Thomas and bump him down the wrong line. He ends up getting stuck in the Quarry Mine Tunnel. Before he can reverse, Mavis comes around the corner and crashes into Thomas, sending him back down the hill where he derails. Duncan arrives with Rocky and Thomas is soon put back on the rails. The next day, The Fat Controller meets Thomas at Elsbridge Station and decides that Thomas is best-suited to pull Annie and Clarabel, and Duck will take care of those pesky trucks.
Cast
Thomas
The Fat Controller
Boco
Mavis
Annie (cameo)
Clarabel (cameo)
Duncan (cameo)
Fred (cameo)
Rickety (cameo)
Troublesome Truck (cameo)
Giggling Troublesome Truck (cameo)
Rocky (cameo)
Duck (cameo)
Harold (cameo)
Lorry 1 (cameo)
S.C.Ruffey (cameo)
Jack (cameo)
Alfie (cameo)
Grey Troublesome Truck (cameo)
N.W. Brakevan (cameo)
Cranky (cameo)
Butch (cameo)
Trivia
First appearances for Thomas, The Fat Controller, Boco, Mavis, Annie, Clarabel, Duncan, Fred, Rickety, Troublesome Truck, Giggling Troublesome Truck, Rocky, Duck, Harold, Lorry 1, S.C.Ruffey, Jack, Alfie, Grey Troublesome Truck, N.W. Brakevan, Cranky, and Butch.
First speaking roles for Thomas, The Fat Controller, Boco, and Mavis.
This episode was originally uploaded to Keekre24 on June 15, 2008. It was reuploaded to ThomasWoodenRailway on March 11, 2009.
The video cuts off mid-sentence (with ThomasWoodenRailway saying "And so...." before the video ends) at four minutes and twenty-three seconds, which implies that the video was not supposed to end at that moment.
Ad blocker interference detected!
Wikia is a free-to-use site that makes money from advertising. We have a modified experience for viewers using ad blockers

Wikia is not accessible if you've made further modifications. Remove the custom ad blocker rule(s) and the page will load as expected.