"The Replacement Lorry" was the first episode of 
Season 1
 of the revived 
Thomas the Tank Engine & Friends Wooden Railway Stories
.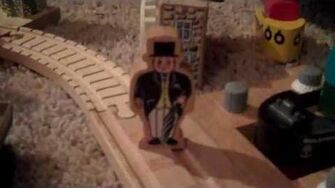 Plot
After the 3 Lorries have been troublesome, Sir Topham Hatt orders for a new Lorry who may replace them.  In order to impress Sir Topham Hatt, the 3 Lorries ask for cargo to take with the Replacement Lorry.  On the way to drop off the cargo, the 3 Lorries drop the cargo on the road.  Sir Topham Hatt's car crashes into some of the cargo.  Once he talks to the 3 Lorries, he said he will have to think about what to do with them.  The episode ends there.
Cast
Lorry 1 (main role)
Lorry 2 (main role)
Lorry 3 (main role)
Sir Topham Hatt (main role)
Replacement Lorry (minor role)
Toby (minor role)
Cranky (minor role)
Butch (minor role) 
Thomas (cameo)
Stepney (cameo)
Peter Sam (cameo)
Sir Handel (cameo)
Ivo Hugh (cameo)
Rheneas (cameo)
Skarloey (cameo)
Bulstrode (cameo)
Jack (cameo)
Alfie (cameo)
Max (cameo)
Sodor Bay Tugboat (cameo)
Trivia
This is considered the first episode of the revived series, as "James the Only Red Engine" was the first episode in the original series
First appearances for Thomas, Sir Topham Hatt, Toby, Cranky, Stepney, Peter Sam, Sir Handel, Ivo Hugh, Rheneas, Skarloey, Bulstrode, Lorry 1, Lorry 2, Lorry 3, Jack, Alfie, Max, Butch, Sodor Bay Tugboat, & the Replacement Lorry.
First speaking roles for Sir Topham Hatt, Lorry 1, Lorry 2, Lorry 3, Cranky, and Butch.
Ad blocker interference detected!
Wikia is a free-to-use site that makes money from advertising. We have a modified experience for viewers using ad blockers

Wikia is not accessible if you've made further modifications. Remove the custom ad blocker rule(s) and the page will load as expected.