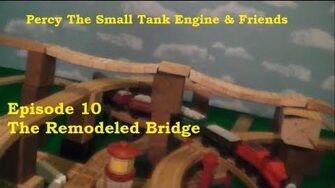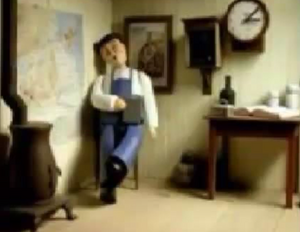 "The Remodeled Bridge" is the tenth episode of
Percy The Small Tank Engine and Friends
. The episode title was suggested by one of
LNERFlyingScotsman
's close friends Peter.The episode was scripted in March, and uploaded in September.
Plot
Sir Topham Hatt decides to remodel a bridge that is old. Sir Topham Hatt decides to branch off the bridge into Knapford Station. Thomas discusses the bridge one night at Tidmouth Sheds. Gordon retorts to Thomas in which Percy dares Gordon to go on the bridge while on construction. Gordon tries to wimp out, but Percy suggests to ask Sir Topham Hatt. Next day Gordon is at Knapford when Percy pulls up and presuades Gordon to ask Sir Topham Hatt. Gordon does so, and the Fat Controller rudely replies to Gordon. That night, Percy double dares Gordon, and Gordon notices his daring record is on the line. Gordon makes his way to Knapford, but the points to Knapford were not set correctly, Gordon raced onto the bridge. The workman on the bridge jumped clear into the ground below, and Gordon's drive wheels skidded off the rails. Sir Topham Hatt first mad at Gordon confronts the signal man, and then apologized Gordon. Gordon then rubs his "victory" in Percy's face.
Cast
Gordon - Main Role
Percy - Main Role
Thomas - Minor Role
James - Minor Role
Henry - Minor Role
Toby - Minor Role
Edward - Cameo
Terence - Cameo
Annie - Cameo
Clarabel - Cameo
Henrietta - Cameo
Flying Scotsman - Mentioned
Goofs
James's travel under the bridge is bumpy.
The Knapford Station scene is a little jerky.
Henry's brakes sounds are late.
There are no paassengers when Gordon arrive at Knapford, but when Percy arrives, passngers are visible on the platform.
The passngers are knocked over on to Percy's coaches when Sir Topham Hatt walks away.
Roberto's finger is seen pulling Sir Topham Hatt away.
Trivia
The episode ran for 5:17
The models of Percy, Gordon, and Toby from their first appearences are lastly used in this episode.
The episode title was suggested by one of Roberto's close friends Peter.