The Off-Brand TWRC Show (a.k.a. "The OBTS") is a collaboration-style YouTube channel, not unlike TWRC Radio, run by TrainiacJ (Jamie), SodorRailway3DFilms (Dylan), and Duck 'N' Duncan (Matt), which was created on November 7th, 2015, with the first two videos coming out the next day. It has been the subject of lots of controversy because of a conflict between its admins and several other TWRC members.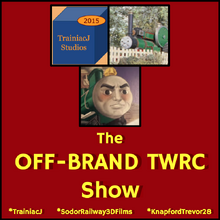 Videos
Commentaries: Best Dressed Engines (11/7/2015)
Top 10 Most Underrated/Overhated TWR Items

(11/7/2015)

Discussions: 2015 for the TWR (11/14/2015)
The OBTS: whoops (12/6/2015)
The OBTS Community Reviews: The Lego Community by WoodenRS (12/14/2015)
Ad blocker interference detected!
Wikia is a free-to-use site that makes money from advertising. We have a modified experience for viewers using ad blockers

Wikia is not accessible if you've made further modifications. Remove the custom ad blocker rule(s) and the page will load as expected.