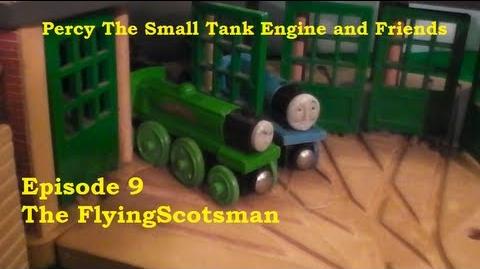 "The Flying Scotsman" is the ninth episode of
Percy The Small Tank Engine and Friends
. The episode first shows The Flying Scotsman into the series. The episode was scripted in March, and uploaded in August.
Plot
Gordon tells a story about his brother The Flying Scotsman and his time spent on Sodor. Thomas gets interested and asks Sir Topham Hatt if he can bring Scotsman to Sodor for a visit. The Flying Scotsman does come to visit Gordon, and also does some work on the island. Sir Topham Hatt booked a special train of Gordon and Scotsman, but right before the train was due, The Flying Scotsman's brakeline broke. Gordon determined to pull the train pulled both Scotsman and the train. After the successful train ride, Scotsman departs and states he will be back.
Cast
Gordon - Main Role
The Flying Scotsman - Main Role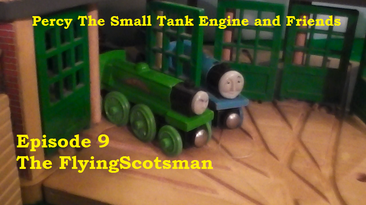 Thomas - Minor Role
James - Minor Role
Percy - Minor Role
Edward - Cameo
Henry - Cameo
Toby - Cameo
Annie - Cameo
Clarabel - Cameo
Spencer - Cameo
Goofs
Usually after a scene stops the camera shakes as he stops the camera.
In the second scene of the episode, Gordon's front wheels derail as he flies off screen.
Gordon's close up is shakey.
Roberto's finger is seen pulling Spencer.
The end of two tracks can be seen when Scotsman is leaving Sodor for the first time.
The turntable is missing alot of tracks.
The track ends on the double wide old iron bridge.
 The track can be seen to end in the shot of the coaches.
The zoom-in of Scotsman is really shakey.
The zoom-in of Gordon is shakey.
Though the narration says Sir Topham Hatt hopped in to Gordon's cab, he is seen standing by the sheds as Gordon pulls Scotsman to the station.
The Fat Controller was suppose to be on the train, but the train leaves with him on the platform.
The end of the cloud set can be seen at the bridge scene.
The scene at Wellsworth has the clouds to the left of the set missing.
A water refilling tank was not present in Wellsworth shot when the train was departing, but there is one in the scene of the brother's return.
Trivia
WoodenRailwayStudio said that this episode was his favorite episode in the series.
The episode was 4:52 in length.