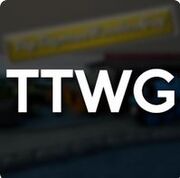 ThomasWoodenGuy
TheThomasWoodenGuy is a member of the TWR Community. He joined YouTube after Christmas in 2009. He made many videos, ranging from scene remakes, to collection videos and his own short lived series. He was also one of the founders of the TWR Community. Sometime in 2011 he made all of his videos private and disappeared from YouTube, only keeping in contact with a select few members of the community. The remaining viewable videos of his are only accessible through the OurTWRCommunity YouTube channel and a couple of his playlists. When he returned, he published some of his videos back to YouTube.
Come Back 
On July 1st, 2014 TheThomasWoodenGuy created a Twitter account. Prior to this date, he set a select few of his videos back to public on his YouTube account. He announced plans of making an update video regarding his absence and other matters sometime in the near future.
Ad blocker interference detected!
Wikia is a free-to-use site that makes money from advertising. We have a modified experience for viewers using ad blockers

Wikia is not accessible if you've made further modifications. Remove the custom ad blocker rule(s) and the page will load as expected.