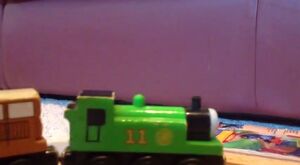 Tales From The Rails is
Woodenrailwayonly
's current episode series that started in the summer 2012, and still runs today.
Beginnings
The series began as soon as Woodenrailwayonly discovered iMovie for IPad usage. He created a trailer that wasn't to popular, but a major step up for his filming style. The first episode, Road Trip, became very popular very quickly, but never succeeded like others as people would rewatch.
Hatias #1
Woodenrailwayonly made only his first before he went back to doing random reviews, videos, book readings, and so on. His next episode did not come out until 2013, which as Scruff and Spencer. Then he made another one 1 month later with 2 new characters, Stafford and Luke, new release from Fisher Price. This episode was titled Blue Mountain Disaster. Then he went on to make Duck's Big Entrance neary 2 months later, but during once again, reviews, remakes, etc.
Hatias #2
The next episode did not come for his series until September 2013, as he did King of the Railway character reviews. His next episode was Un-Great Western. It to was made on a different layout then all the rest, but this time, it stuck for 3 more episodes, including a new intro.
Woodenrailway's Uprise
As soon as 2014 started, Woodenrailwayonly did not want any time to waste as he had matured and saw his channel dying, so he stood up one day and filmed, releasing his next episode, The Careless Twins, using his new camera. After this he saw how much everyone liked it and created t 2 more episodes in the same week. Soon enough he was buying new items on eBay for his series, and the season came to an end with an episode he had waited to film for a long time, Stepney Takes The Mail.
Season 2
Soon after season 1, Woodenrailwayonly made one 2014 review, and made a new layout for the season, but after only one episode, it had to be taken down due to carpet cleaning. His next video did not come out until early May, with Happy Hank, he was happy to be back on the saddle with his videos, and he continues making episodes now. After the season he made his first movie, Operation Domination. Then he will go back to his usual summer videos of reviews, book readings, and an update for Season 3.
Ad blocker interference detected!
Wikia is a free-to-use site that makes money from advertising. We have a modified experience for viewers using ad blockers

Wikia is not accessible if you've made further modifications. Remove the custom ad blocker rule(s) and the page will load as expected.