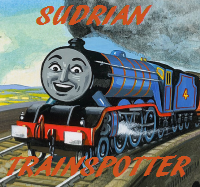 Sudrian Trainspotter is a community member who joined YouTube in April of 2015.
History
Although the channel was created in Mid-April, Trainspotter did not upload his first video until August, a teaser for a shelved series NWR Beginnings.
His next video was a remake of Duke's story of No. 2 from the Railway Series story Granpuff, dramatizing Stanley's demise. He used Ivo Hugh with alternate name and number plates to portray Stanley.
In January 2016, a tribute to the Flying Scotsman's return to steam was uploaded.
He spent early 2016 conceptualizing a series called Memiors of the Duke, a series focusing on the history of the Mid Sodor Railway from Duke's perspective, with a prologue for the series was released in April of 2016. However, this series was put on hold in late July due to dissatisfaction with the story-line, and later cancelled altogether in October.
Switching gears towards another set of stories, Sudrian began work on a story titled Divergent Diesel, which was released in December 2016. Alongside the new series titled Sodor's Golden Age, Sudrian plans to do remake clips, shorts, and occasional reviews.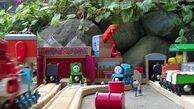 His most notable video thus far is a remake of the opening scene of Rusty and the Boulder, which is his first video to reach over 1,000 views. Another video of note was a custom model showcase of his Streamlined Gordon from the Great Race, which has eclipsed 10,000 views.
His channel currently has over 200 subscribers and over 28,000 page views.
Style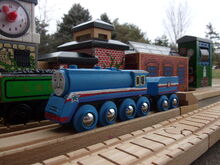 Unlike many users who film primarily indoors, Sudrian films most of his content outdoors around his home. Most of the episodes and shorts produced on his channel emulate situations and events which occur in the railway series and classic television series, often building upon the source material with adapted dialogue and additional story elements.
Community Involvement
Sudrian Trainspotter has established a good working relationship with Duck 'N' Duncan, co-writing a few episodes of his series and providing a few character voices. Besides DND, he is also acquainted with DuncanWoodenRailway, OliverTheGWREngine, Percyno6, EzCuldee and former community member KnapfordTrevor28.
Sudrian's acting experience in high school served as a inspirational factor in branching out as a voice actor within the community. He is the voice of Butch in Enterprising Engines and also appeared as Rickety in the Thomas Creator Collective. Sudrian has additionally lent his voice to projects done by fellow TWRC members DuncanWoodenRailway, OliverTheJams, TrainKing James, WoodenRS, Ethan P. and Oliver Duck.
In early May of 2017, he appeared on Percyno6's talk show Percy's Ever Present Past.
Ad blocker interference detected!
Wikia is a free-to-use site that makes money from advertising. We have a modified experience for viewers using ad blockers

Wikia is not accessible if you've made further modifications. Remove the custom ad blocker rule(s) and the page will load as expected.