Sudrian Escapades! is a wooden railway series created by Annie C. It is filmed on detailed sets and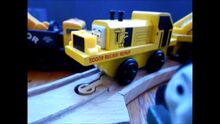 string propulsion is used to propel the engines. Annie and her brother voice all of the characters themselves. The only music used is remakes of Thomas and Friends themes, provided by Annie's brother. There will be ten episodes in each season.
The episode stories are very much like the stories from the TV series, except for the occasional obscure humorous moment. As of Collision Course, the Narrator's role has been somewhat reduced.
List of Episodes
Season One
1) Benjamin's Rocket
2) An Awkward Predicament
3) Collision Course
4) Things That Go Bump In The Shed
5) Wildfire
6) Young Whippersnappers
7) Out of Date Parts 1&2 (Part 2 has yet to be released)
8) Gordon's Shed (TBA)
9) Second Chance (TBA)
10) Diesel 10 (TBA)
Ad blocker interference detected!
Wikia is a free-to-use site that makes money from advertising. We have a modified experience for viewers using ad blockers

Wikia is not accessible if you've made further modifications. Remove the custom ad blocker rule(s) and the page will load as expected.