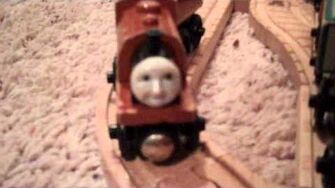 "Stuart's Big Mistake" is the eighth episode in Season 1 of Thomas the Tank Engine & Friends Wooden Railway Stories.
Plot
After a long day of work, Duke arrives at the sheds.  When Oliver asks for a story of his past, Duke decides he would tell them about the time Peter Sam, or at that time Stuart, arrived on his old railway.  Stuart came after Smudger had been turned into a generator.  The Controller tells Stuart to take some coaches for his first train.  When Stuart forgets, he ends up taking the worst trucks on the railway.  Duke tries to tell him to switch, but he can't hear them.  The trucks eventually make Stuart crash.  Duke ends up fixing the problem, and gets Stuart back on the tracks.  Duke takes the trucks from there and Stuart takes his coaches.  Afterwards, Stuart apologizes to Duke.  Duke said it was okay and it was just his first day on the railway.  The engines tell Duke what a great story it was.
Cast
Duke (main role)
Peter Sam (main role)
Duke's Old Controller (minor role)
Oliver (minor role)
S.C.Ruffey (minor role)
Fred (minor role)
Rickety (minor role)
Thomas (cameo)
Bertie (cameo)
Annie (cameo)
Clarabel (cameo)
Percy (cameo)
James (cameo)
Toby (cameo)
Gordon (cameo)
Edward (cameo)
Donald (cameo)
Douglas (cameo)
Duck (cameo)
Toad (cameo)
N.W. Breakvan (cameo)
Smudger (cameo)
Old Slow Coach (cameo)
Tiger Moth (cameo)
Trivia
First speaking roles for Duke and Duke's Old Controller.
First appearances for Smudger and Duke's Old Controller.
This is the only episode to feature Peter Sam as Stuart.
Ad blocker interference detected!
Wikia is a free-to-use site that makes money from advertising. We have a modified experience for viewers using ad blockers

Wikia is not accessible if you've made further modifications. Remove the custom ad blocker rule(s) and the page will load as expected.