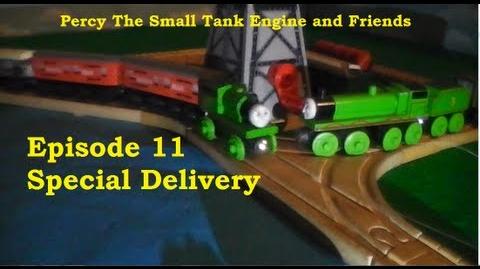 "Special Delivery" is the eleventh episode of
Percy The Small Tank Engine and Friends
. This episode is the second episode to be filmed primarily at night. It was scripted in March, and uploaded in Spetember.
Plot
Percy has been hyperactive lately and wakes up the sleeping engines at the sheds, so Sir Topham Hatt decides to give Percy a night job after several complaints. After pondering on what job, Toby puffs in and resigns from his overnight mail job. Sir Topham Hatt decides to give Percy the overnight mail job. That night Percy leaves Tidmouth Sheds, and heads over to Knapford where he breifly meets Stepney the Bluebell Engine, then Percy meets Tom Tipper who mentions Postmaster Hank who is a grouchy Postmaster. Percy takes the mail to the sorting facility very swiftly. When Percy arrives to Knapford the following mo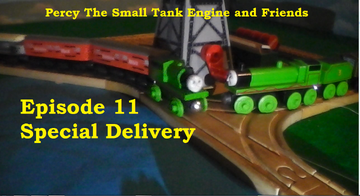 rning, Sir Topham Hatt instructs Percy to take a big box to his brother Lowham Hatt that night. Percy makes it over to Knapford the following night, he gets so caught up about Sir Topham Hatt's package that he leaves without being coupled to the train. Percy tries to make up for lost time, and ends up getting to the sorting facility on time. Hank and his crew load up parcels and packages to take back to Tom. Then Tom gives a box to Sir Topham Hatt that looks exactly like the box Percy saw yesterday. Sir Topham Hatt reveals that it was a brand new whistle for Percy.
Cast
Percy: Main Role
Toby: Minor Role
Stepney: Minor Role
Thomas: Cameo
Edward: Cameo
Henry: Cameo
Gordon: Cameo
James: Cameo
Rocky: Cameo
Goofs
Sometimes when a clip ends the camera is shakey.
The track of the mountain tunnel mountain part ends abrubtly.
Percy's brake sound effects are off.
Percy's fireman looks different than he did during the frist night Knapford scene.
Percy's door closes on Toby's shed berth.
Percy's coupling sound effects are off.
Percy's coupling sound effects are off again.
Track on the bottom of the old bridge can be see to end.
Percy stops moving while going under the second level of the bridges.
The camera shakes while Percy goes through the first level the first time.
Trivia
The episode ran for 9:25
First speaking and appearence role of Stepney.
Last episode to use the orignal models of Percy, Gordon, and Toby.