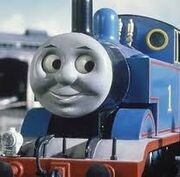 Sodor Wooden Adventures
is a Thomas Wooden Railway user who joined YouTube in January 2013.
Beginnings
Sodor Wooden Adventures first joined YouTube on January 23rd, 2013. He had been inspired by the work of Thomas Wooden Railway series by ThomasWoodenRailway, Percyno6, and Enterprisingengine93 on YouTube and has watched their videos since 2011.
Videos
In late January of 2013, Sodor Wooden Adventures began filming videos on his home-made Thomas Wooden Railway layout in his garage with the first video upload being a Season 1 update video where he revealed that he will be starting his own series with the first episode of the season being called Thomas' First Day. He would also discuss that he was going to make a movie called The Beginning of Sodor and would be uploading his first ever layout video and collection video. On January 16th, 2014 the same day of his Season 1 update video informing the Thomas Wooden Railway community that a new Thomas Wooden Railway user had joined YouTube. He also uploaded his first ever layout video which he used for the first episode of his series that followed on January 24th, 2014. He uploaded his first episode of season 1 of his series Thomas' First Day which currently has almost has now over 1,000 views. Sodor Wooden Adventures would then upload some new Thomas Wooden Railway items that he had brought over the months of October and December of 2013. Those items being 2013 Thomas Wooden Railway items Luke and Winston along with Kevin, Charlie, Kelly, Patrick, and Scuff too. Sodor Wooden Adventures then didn't upload any videos in till April 10th, 2014 with another new to collection video showing of 2014 models of Porter and 2013 King of the Railway items Mille, Connor, Stephen and Caitlin. On May 25th, 2014 Sodor Wooden Adventures then uploaded his first ever collection video which was originally suppose to be uploaded back in January of 2014. He showed two more Thomas Wooden Railway items that he had picked up a 2014 re-release of Duck the Great Western Engine and 2013 KOTR item Stephen Comes to Sodor. Season 1 of Sodor Wooden Adventures series will resume in the fall of 2014 with his upcoming movie The Beginning of Sodor.
Ad blocker interference detected!
Wikia is a free-to-use site that makes money from advertising. We have a modified experience for viewers using ad blockers

Wikia is not accessible if you've made further modifications. Remove the custom ad blocker rule(s) and the page will load as expected.