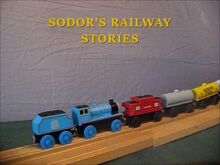 Sodor's Railway Stories is WoodenToby's Thomas Wooden Railway video series. It uses Thomas Wooden Railway merchandise to remake The Railway Series by the Rev W. Awdry and Christopher Awdry.
History
Sodor's Railway Stories debuted on August 4, 2015 with Edward's Day Out. It continued until March 21, 2016, when WoodenToby put it on hold to try out some other styles of videos. The series returned May 21, 2016 with Thomas goes Fishing and a new intro and credit style that WoodenToby found more interesting. Since then, it has been going to this day with more new episodes being put out.
Style
Sodor's Railway Stories is made up of remakes of Railway Series stories by the Rev W. Awdry and Christopher Awdry. It uses Thomas Wooden Railway trains and track and Lego figures. WoodenToby narrates the series and uses music from the Tank the Tank Engine TV Series. Sheets make up the ground and sky and various types of buildings and set dressings are used. Originally, its opening and credits were very similar to those of Season 1 of the TV Series, but starting with Thomas goes Fishing, they were changed. The opening is the Season 19 Roll Call from the TV Series with footage from Sodor's Railway Stories, and the credits are the illustrations from the Railway Series story that was remade for that episode fading into pictures WoodenToby took that nearly mirror the illustrations. For his 100 subscriber special, WoodenToby allowed other users to voice characters for two upcoming episodes, Henry's Sneeze and Toby and the Stout Gentleman.
Episode Arrangement
WoodenToby does Sodor's Railway Stories in 26-episode seasons. He is currently finishing Season 1. He releases stories individually first, then once all the stories of a Railway Series book are finished, he puts them together in a collection video.
Episodes
The following are the current episodes of Sodor's Railway Stories:
Season 1: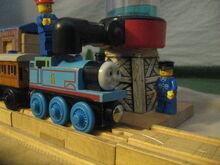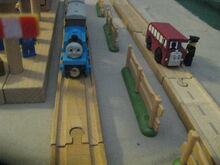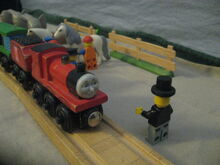 Season 2:
Full Books
Once WoodenToby has remade all the episodes of a Railway Series book, he compiles them into a collection video made in a similar style to the early Thomas VHS tapes. So far, he has made the following: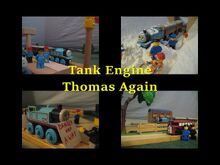 Duck and the Diesel Engine
Ad blocker interference detected!
Wikia is a free-to-use site that makes money from advertising. We have a modified experience for viewers using ad blockers

Wikia is not accessible if you've made further modifications. Remove the custom ad blocker rule(s) and the page will load as expected.