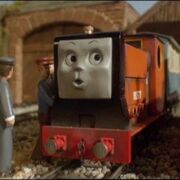 RustyNo5 first joined YouTube on August 12, 2010.
Themes
RustyNo5 mostly uploaded Thomas Themes during his time on YouTube.  His first theme was called "Donal' & Douggie's theme."  He would go on to make more Thomas Themes.  They were Stepney's, James', Daisy', Diesel's, Duck's, Knapford Station's, Toby's, Henry's, Breakdown Train's, and Harold's themes.  He was more well known for his Thomas themes than his Thomas Wooden Railway videos, with his most viewed video being Daisy's Theme at almost 30,000 views.
TWR 
Compared to his themes, RustyNo5 didn't upload many Thomas Wooden Railway videos.  His Thomas Wooden Railway videos he's uploaded are Random Test, Old Video - The Flying Kipper, RustyNo5 1 Year Anniversary - Layout, RustyNo5's Thomas Wooden Railway Collection (#1), and Grumbling Gordon.  He also uploaded two Ebay videos about Thomas Wooden Railway.  One was on a German Milk Tanker and the other a factory error Bulgy with Daisy's face.  
Departure 
Grumbling Gordon was uploaded on October 2, 2011 and that would end up being RustyNo5's last video he would ever upload.  RustyNo5 has had many failed attempts to come back.  Usually happening when ThomasWoodenRailway would return.  RustyNo5 recently tried coming back. He put this on his channel "UPDATED 9/25/13 Could possibly be uploading TWR Videos in the future." He would end up not coming back. RustyNo5 will be remembered for his themes and Grumbling Gordon.
Ad blocker interference detected!
Wikia is a free-to-use site that makes money from advertising. We have a modified experience for viewers using ad blockers

Wikia is not accessible if you've made further modifications. Remove the custom ad blocker rule(s) and the page will load as expected.