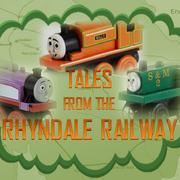 Rhyndale Railway
, also known as
Rhyndale
, is a member of the Thomas Wooden Railway Community who joined on October 10, 2013, exactly four years after
ThomasWooden123
. He is very opinionated, and many people have mixed feelings about him regarding these opinions.
Episodes
Season 1
Before the Channel
In 2010, Rhyndale made a YouTube account called ThomasWoodenFun he made because he wanted to make TWR videos like some others he had seen. He deactivated it after no uploads and wanting to create a Club Penguin-based channel called IcebirgyStudiosInc. (currently Google+ integrated)
Early Days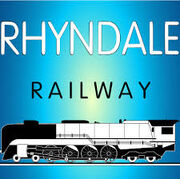 Rhyndale created his account after getting back into Thomas and Friends while inspecting his old Thomas Wooden Railway collection. Rhyndale's first video was an unboxing of a 2011 Dodge he won off of eBay. He uploaded unboxings for nearly every item that he bought, not speaking until his seventh upload, Bill and Ben's Misty Island Adventure, an audio parody. In January of 2014, he began formulating and making test shots of his series, Tales From the Rhyndale Railway.
Beginnings of TFTRR
Tales From the Rhyndale Railway's wiki was created on January 4, 2014 at 2:00 PM CST. On January 7th, a test video of the eighteenth episode of the first season was uploaded. This was also the second edited video, as RR was getting the hang of iMovie. Some test footage from an episode called "Heroic Hank" was uploaded a day earlier.
TFTRR's Launch
The first episode of Tales From the Rhyndale Railway was aired on April 2, 2014 at 7:49 PM Central Standard Time. Twenty-three other videos were uploaded until the second episode of the series was finally launched after over a month of waiting on June 9, 2014 at 8:55 PM Central Standard Time. The third episode was uploaded four days later.
Rhyndale Today
Rhyndale is still semi-active today, but has not uploaded an episode of his series in well over a year. He later revealed that he has no intention of continuing his series, but remains active on Twitter.
List of Episodes:
Season 0:
'Draggled Diesels (first draft)
Season 1:
​Dennis, Billy, and Hank
Double Rescue
Overloaded
Chills and Spills
Rosie
Grand Opening 
Neville and the Coaches
Season 2:
Horrid Horace
Ad blocker interference detected!
Wikia is a free-to-use site that makes money from advertising. We have a modified experience for viewers using ad blockers

Wikia is not accessible if you've made further modifications. Remove the custom ad blocker rule(s) and the page will load as expected.