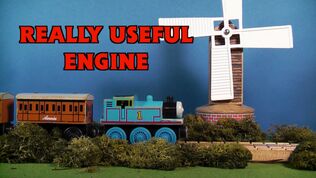 Really Useful Engine is a series created by MultiGreenThunder. It is a reboot of his old series with the same name. The series is also a reboot of Thomas and Friends and is not canon with the TV series. The series premiered on August 5, 2015.
Creation
Multi had previously made an old series with the same name. He grew a dislike for the old series due to boring stories and other things. This lead to the series' cancellation. However Multi still wanted to make a series and he felt the old series still had some good ideas. In 2015 Multi announced a reboot of the series. The first episode was a remake of the first episode of his old series; Thomas and Changes.
Episodes
Season 1
Episode 1 - Thomas and Changes
Episode 2 - Trucks, Tankers and Trouble (To Be Released)
Style
Really Useful Engine is usually filmed on a grass mat and has a sky background. Multi uses string instead of his hands. Multi tries to make the series' plots like how the t.v. series was in its first five seasons,although the series has some comedy sometimes. The series may also have some more serious stories in the future.
Current Status
Really Useful Engine is currently on hiatus. He had hoped to return to the series when he has more elaborate sets and episode scripts ready. However, Multi isn't sure yet whether to cancel this series in favor of a new series with sets much more accurate to the model episodes of the Thomas and Friends TV series or not. There has not been an episode released since August of 2015. The series' fate is currently unknown.
Multi is primarily working on other TWR projects instead such as reviews, remakes and collaborations.
Trivia
Multi plans on making at least three seasons and a movie. The movie's working title is Takeover.
Despite the first episode (Thomas and Changes) being released in 2015, a lot of the episode was filmed in 2014; to test out Multi's (then new) camcorder.
Season 1 is supposed to last ten episodes.