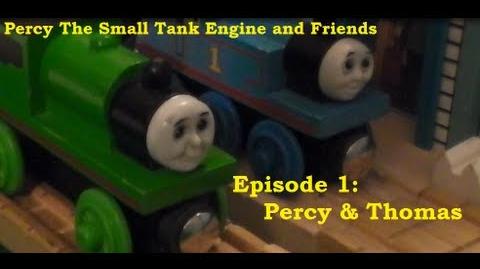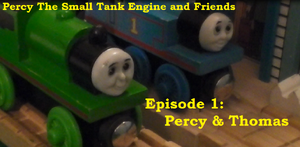 "Percy and Thomas" is the first episode of the
series
Percy The Small Tank Engine and Friends
. The episode was written around early February, filmed in two days and uploaded to YouTube on
LNERFlyingScotsman
's channel of the same name on July 17, 2012.
Plot
The episode starts out with Percy traveling  to Sodor after being purchased from a different railway. He is supposed to meet the Fat Controller at Wellsworth Station, but meets Thomas The Tank Engine instead. Thomas tricks Percy into calling The Fat Controller "The Fat-A** Controller", and to helping him with a train of freight cars. Percy gullibly does so, and arrive at the Top Station (Later known as Maithwaite Station) There Percy meets the Fat Controller, and learns that Thomas tricked him into doing his work. Thomas scurries off. Percy calls The Fat Controller The Fat-A** Controller, and The Fat Controller instructs Percy to bring Thomas back to the station the next morning. Percy heads towards the sheds to find all the spots taken up by the engines that work at Sodor, and Percy sleeps in a siding.
Cast
Thomas  - Main Role
Percy - Main Role
Gordon - Minor Role
Edward - Cameo
Henry - Cameo
James - Cameo
Annie - Cameo
Clarabel - Cameo
Catherine - Cameo
Mabel - Cameo
Goofs
The camera usually shakes when Roberto stops shooting a scene.
Roberto's Hand is seen at 0:24 as well as his leg.
The end of the track is seen at scene at 0:24.
There is a lot of camera shaking at the Wellsworth Station scenes.
At the scene at 1:41 a notebook is seen where Roberto reads the script.
Shawdows of Roberto are seen at the scene where Thomas and Percy are pulling/pushing the freight cars.
At the Top Station scene where Thomas and Percy come in, the camera shakes at the start, and a stair piece of the Pedestrian Bridge is knocked over.
The camera looms down at the close up of The Fat Controller and Thomas.
The camera shakes at the close up of Thomas.
At the close up of Percy and Thomas the camera shakes throughout the entire clip.
An eBay alert rings in the middle of Roberto's narriation
The last scene of Percy had some camera shaking
Trivia
This was the first episode made by LNERFlyingScotsman
The episode was the first to have speaking roles of Thomas, Percy, Gordon, and The Fat Controller
The episode ran for 5:06
Ad blocker interference detected!
Wikia is a free-to-use site that makes money from advertising. We have a modified experience for viewers using ad blockers

Wikia is not accessible if you've made further modifications. Remove the custom ad blocker rule(s) and the page will load as expected.