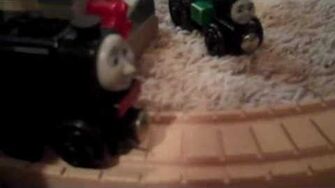 "Neville's Neverland" is the fifth episode in Season 1 of Thomas the Tank Engine & Friends Wooden Railway Stories
Plot
When Sir Topham Hatt is in need of an engine to take Old Slow Coach, he calls for Neville to do the job.  As Neville pulls Old Slow Coach, he sees some of the other engines.  Neville desides to brag to the other engines about his job.  As he turns around on the turntable, he keeps Old Slow Coach on the turntable and causes Old Slow Coach and himself to derail.  Oliver and Duck are the only engines who can leave without using the turntable, and go to find Sir Topham Hatt.  Sir Topham Hatt sends for Harvey and Rocky to fix the damage.  Once Neville is back on the track, he finds that he can't pull Old Slow Coach.  Harvey takes both Neville and Old Slow Coach to Knapford Station.  Sir Topham Hatt finds Neville is too damaged and has to go to the works.  Duck takes Neville to the works, and Oliver takes Old Slow Coach.
Cast
Neville (main role)
Sir Topham Hatt (main role)
Old Slow Coach (main role)
Oliver (main role)
Duck (main role)
Culdee (minor role)
Stepney (minor role)
Donald (minor role)
Douglas (minor role)
Toby (minor role)
Harvey (minor role)
Rocky (minor role)
Catherine (cameo)
Thomas (cameo)
Jack (cameo)
Alfie (cameo)
Byron (cameo)
Max (cameo)
Monty (cameo)
Trevor (cameo)
Bertie (cameo)
Elizabeth (cameo)
Bulgy (cameo)
George (cameo)
Edward (cameo)
Toad (cameo)
Gordon (cameo)
James (cameo)
Percy (cameo)
Tiger Moth (cameo)
Trivia
First speaking roles for Stepney, Neville, Toby, Donald, Douglas, Harvey, Rocky
First appearances for Old Slow Coach, Monty, Neville, Donald, Douglas, Rocky, Byron, Monty, Elizabeth, Edward, Percy and James.
Ad blocker interference detected!
Wikia is a free-to-use site that makes money from advertising. We have a modified experience for viewers using ad blockers

Wikia is not accessible if you've made further modifications. Remove the custom ad blocker rule(s) and the page will load as expected.