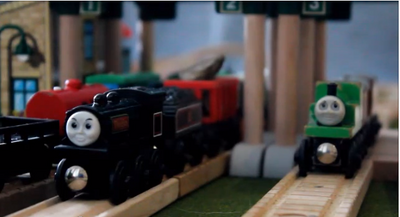 Development
This was Ted's (Oliver Duck) first episode. It paved the way for videos to come. The first attempt was shot on a low quality camera and Ted now calls it the "Pilot Episode". After Ted thought the original cut lacked in all respects (Audio, Visual, Stability) he received a new camera for Christmas 2013 and from then on he used it for the whole series. However, on the morning of re-filming Ted's dog rampaged over the layout, damaging it and making claw marks that remained somewhat visible on the grass mat for the whole series.
Filming
After the layout was fixed Ted promptly started filming on it. Around half the shots were on supports and the other half were hand held. The Narration was made as the film was shot and would remain this way up to Episode 8. It was unscripted but Ted had a very firm understanding how things would play out. 
Editing
This episode was edited with Windows Movie Maker the day after it was shot and promptly uploaded. The editing was somewhat rushed, leading to typos in the credits. 
Plot
The Plot was made to set up Ted's series and the over all setting. The plot consisted of Oliver switching shifts with Duck for the day and seeing engines he did not normally see. Donald gives Oliver a Bad word for Daisy and Bear. After finding out they are both nice they come up with a plan to pay him out! After making Toad stop the train, Daisy and Bear have to take Donald to the big meeting. At the meeting The Fat Controller tells the engines about five new engines that are coming to the island and thus this sets up the stories for the next four episodes!