Montagueduck48, a.k.a. John, started his channel on February 3, 2014.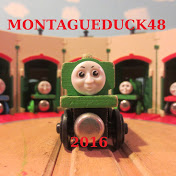 In the Beginning
When John (MD48) started his channel in February 2014, he didn't upload any videos. The reason why is because he couldn't find a good editing software. In the time when he didn't upload anything he had around thirty subscribers. On June 30, 2014, John found the YouTube capture app, and that same day he filmed his first video, a review of a 1992 Wooden Railway Thomas, which has since been removed by John. After that he uploaded quite often. Later on in August, he was able to use his HD camera to film.
Reviews
John has done lots of reviews and plans to do much more. His first video was a 1992 Thomas review. He mostly has done reviews of 1992 wooden railway items, his first non-1992 review was of a 1995 white-roof rusty, (also taken down). He has lots more rare items to review.
Thomas Wooden Journeys
John also does a series, "Thomas Wooden Journeys", He isn't too happy about the generic title, but no-one else had claimed "journeys", so he chose that. Each of his seasons will consist of ten episodes. His first feature-length special "Skarloey the birthday engine" was cancelled because his iMovie crashed, so he did a small short for the event. He also did Thomas Wooden Journeys Shorts. He only made one short then went on with his other series. It is unlikely that John will do more shorts.
Other videos
John also makes some train-spotting videos, where he shows a day's work at a different location on the Island of Sodor. He also has a second channel "TheMightyCamelback" to upload videos of real trains.
Social Media
John currently has Twitter.
Ad blocker interference detected!
Wikia is a free-to-use site that makes money from advertising. We have a modified experience for viewers using ad blockers

Wikia is not accessible if you've made further modifications. Remove the custom ad blocker rule(s) and the page will load as expected.