KilroyCommunications was a former member of the Thomas Wooden Railway Community who joined the community on September 17th, 2011. He was known for winning the Thomas Wooden Railway Competition.
Timeline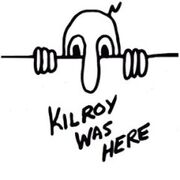 Not much is known about KilroyCommunications, as he has only posted two videos and doesn't have a Facebook, Twitter, SiF, or any other account other than his YouTube Channel. All we know about him is the following. 
September 17, 2011 - Joins YouTube.
Late Spring 2012 - Finishes High School.
August 13, 2012 - Thomas Wooden Railway Competition Started.
August 18, 2012 - Kilroy's Entry Posted
September 3, 2012 - Thomas Wooden Competition Ends
Early Fall 2012 - Starts College
October 6, 2012 - Winner, KilroyCommunications, Announced
January 18, 2013 - Ad Project - Fjord Pickup Posted
Late 2013 - Updates YouTube Channel
February 2014 - Updates YouTube Channel
Because of these recent updates, he may return. However, most likely he won't, as he says his college life has been hectic and there is not a lot of time to film. This is similar to how TRAINSARECOOL2 and Donald Douglas left the community. However, who knows. He may come back very soon...
Thomas Wooden Railway Series
KilroyCommunications has said in his update message that he will be starting a new series called "Thomas & Friends: Adventures on Sodor"
Hiatus and Relaunch
After a lengthy hiatus from videos, KilroyCommunications announced a return to the channel. The channel's username was changed to WQJP-TV 62 and would a have a TV station feel. The channel is suppose to feature a variety a content including Thomas Wooden Railway videos. In July of 2016, KilroyCommunications appeared on Percy's Ever Present Past and answered some questions about his disappearance and return to YouTube.
Ad blocker interference detected!
Wikia is a free-to-use site that makes money from advertising. We have a modified experience for viewers using ad blockers

Wikia is not accessible if you've made further modifications. Remove the custom ad blocker rule(s) and the page will load as expected.