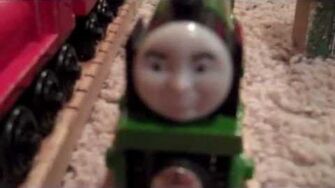 "James and the Guest" is the sixth episode of Season 1 of Thomas the Tank Engine & Friends Wooden Railway Stories
Plot
When the Big City Engine comes to the Island of Sodor for a trial, Sir Topham Hatt orders James to give him a tour of the Island.  Due to the past history between the two, neither of them are excited about being together.  Big City Engine complains about being on the Island, and James complains about being with the Big City Engine.  Once they get back to Knapford Station, James tells Sir Topham Hatt to not keep the Big City Engine.  Once James leaves, Sir Topham Hatt asks the Big City Engine if he wants to say.  Big City Engine decides he would like to say since his old railway closed.  Sir Topham Hatt says he'll think about it.
Cast
James (main role)
Big City Engine (main role)
Sir Topham Hatt (minor role)
Caroline (minor role)
Old Slow Coach (minor role)
Crankey (minor role)
Colin (minor role)
Thomas (cameo)
Annie (cameo)
Clarabel (cameo)
Bulstrode (cameo)
Bertie (cameo)
Tiger Moth (cameo)
Stanley (cameo)
Neil (cameo)
Duke (cameo)
Bertram (cameo)
Sir Handel (cameo)
Peter Sam (cameo)
Harold (cameo)
Sodor Bay Tugboat (cameo)
Boulder (cameo)
Jack (cameo)
Alfie (cameo)
Byron (cameo)
Max (cameo)
Monty (cameo)
George (cameo)
Lorry 1 (cameo)
Lorry 2 (cameo)
Lorry 3 (cameo)
Rocky (cameo)
Harvey (cameo)
Butch (cameo)
Trevor (cameo)
Mavis (cameo)
Oliver (cameo)
S.C.Ruffey (cameo)
Trivia
First appearances for Caroline, Big City Engine, Neil, Duke, Bertram, Mavis, and S.C.Ruffey.
First speaking roles for Caroline, Big City Engine, James, and Colin.
To date, this is the only episode Big City Engine has appeared in.
Ad blocker interference detected!
Wikia is a free-to-use site that makes money from advertising. We have a modified experience for viewers using ad blockers

Wikia is not accessible if you've made further modifications. Remove the custom ad blocker rule(s) and the page will load as expected.