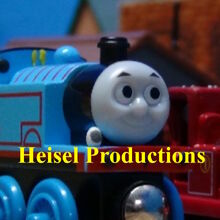 Heisel Productions is a Thomas Wooden Railway user that makes mostly remakes. He was inspired to make videos by Thomas Wooden Episodes, MultiGreenThunder, and Roman'sTWREmpire.
The Start
Thomas aka Heisel Productions made his account on Dec 23, 2013. He didn't upload his first video until 2016.
Remakes
Thomas does remakes with highly detailed sets using string and clay faces.
He has done the following remakes:
The Flying Kipper
Down The Mine
Heave Ho Thomas
Emily's New Coaches
Edward's Exploit
James the Second Best
Pinchy's Artwork (TATMR)
Vicarstown Bridge Jump (TGR)
Scaredy Engines
Dream On
Thomas and the Avalanche
Thomas, You're the Leader (MV)
James Works it Out
Sneezing Powder (TATMR)
Edward and Gordon (TAB Intro)
Percy, James, and the Fruitful day
How To Stop being Stupid (TATMR)
Thomas Collects Mr. Conductor (TATMR)
Theodore and the boat bully clip
Night Train (MV)
Rolling River Bridge (TGD)
The Future
Thomas's plans for the future are to keep doing remakes from seasons 1-12 and others. Also possibly some T&F movie clips to!
Trivia
Thomas is a big fan of Dukes of Hazzard.
He is also a big fan of Ghostbusters.
He has made several customs such as The Shooting Star, Rex, JBS Engines and more.
His favorite season of the TV series is Season 6.
His favorite character is Oliver.
He has several friends in the community, such as EzCuldee, Toby77 c, and Woodenfan 1 .
Ad blocker interference detected!
Wikia is a free-to-use site that makes money from advertising. We have a modified experience for viewers using ad blockers

Wikia is not accessible if you've made further modifications. Remove the custom ad blocker rule(s) and the page will load as expected.