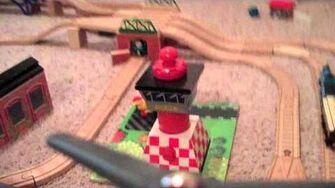 "Harold's Hectic Load" is the eleventh episode in Season 1 of Thomas the Tank Engine & Friends Wooden Railway Stories.
Plot
Due to a lack of engines, Sir Topham Hatt is in need of another way to take passengers across the Island of Sodor.  He decides to go with Harold the helicopter. As Harold takes the passengers, he discovers that he needs to be in many places across Sodor.  When Sir Topham Hatt finds him, he tells Harold to no longer worry about taking passengers, and that he will be getting a new engine in a few days.  After hearing this, Harold drops off his remaining passengers to finish the day.
Cast
Harold (main role)
Sir Topham Hatt (minor role)
Rusty (minor role)
Daisy (minor role)
Edward (minor role)
Air Field Manager (minor role)
George (minor role)
Butch (minor role)
Elizabeth (minor role)
Old Slow Coach (cameo)
Thomas (cameo)
Tiger Moth (cameo)
Duck (cameo)
Oliver (cameo)
Donald (cameo)
Douglas (cameo)
Lorry 1 (cameo)
Lorry 2 (cameo)
Lorry 3 (cameo)
Thumper (cameo)
Jack (cameo)
Alfie (cameo)
Max (cameo)
Monty (cameo)
Cranky (cameo)
Colin (cameo)
Bulstrode (cameo)
Arry (cameo)
Bert (cameo)
Trivia
First appearance for Rusty, Daisy, and the Air Field Manager.
First speaking role for Rusty, Daisy, Edward, Air Field Manager, Elizabeth, and George.
Ad blocker interference detected!
Wikia is a free-to-use site that makes money from advertising. We have a modified experience for viewers using ad blockers

Wikia is not accessible if you've made further modifications. Remove the custom ad blocker rule(s) and the page will load as expected.