"Gordon's Grand Getaway" is the fifteenth and final episode in
Season 1
of
Thomas the Tank Engine & Friends Wooden Railway Stories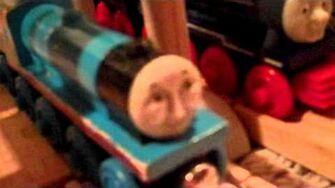 Plot
With a lack of engines on the Island of Sodor, Sir Topham Hatt asks for three of his biggest engines for help. Gordon, Spencer, and Hank arrive at Knapford to help. Sir Topham Hatt asks Spencer to take the express, Hank to take Old Slow Coach, and Gordon troublesome trucks. This angers Gordon, who at this point was already upset with Sir Topham Hatt and the Island of Sodor. He soon tells Hank and Spencer that he wants to leave. They both tell Gordon not to leave, and Hank even offers Gordon to take Old Slow Coach. Gordon does decide that he needs to leave, wishing the Island of Sodor goes bankrupt without him. When Sir Topham Hatt returns, he asks where Gordon went to. Spencer and Hank tell them Gordon left, which saddens Sir Topham Hatt to end the episode.
Cast
Gordon (main role)
Spencer (main role)
Hank (main role)
Sir Topham Hatt (minor role)
Old Slow Coach (cameo)
Thomas (cameo)
Thumper (cameo)
Max (cameo)
Elizabeth (cameo)
Stanley (cameo)
Terence (cameo)
Fred (cameo)
Troublesome Truck (cameo)
Rickety (cameo)
Replacement Lorry (cameo)
Sodor Bay Tugboat (cameo)
Trivia
First appearance for Spencer and Hank.
First speaking role for Spencer and Hank.
This is the last appearance for the Replacement Lorry.
Ad blocker interference detected!
Wikia is a free-to-use site that makes money from advertising. We have a modified experience for viewers using ad blockers

Wikia is not accessible if you've made further modifications. Remove the custom ad blocker rule(s) and the page will load as expected.