A Mitton Apart, formerly flyingscotsmanstudio (2008-2012), ScruffyEngine (2012-2014) and, most recently, GingerPercy (2014-2016), is an on and off member of the community who has been around since 2008.
Thomas Wooden Railway Contest
In August, 2012, GingerPercy entered the Thomas Wooden Railway Contest and won 2nd Place. 
Keekre24's Anniversary Contest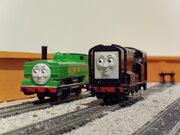 In May, 2013, GingerPercy entered Keekre24's Anniversary contest and won 3rd place.
Hiatus and Comeback
After a hiatus, GingerPercy returned with a new TWR video called 'Winston's Dumb Adventure'. The film was collaboration with EnterprisingEngine93 and was very well received by viewers of his videos. As of now, this is the only video on his channel.
Today
GingerPercy still interacts with the community on Twitter, but he has since had a shift in focus from making Thomas videos.
2048: TWR Community Edition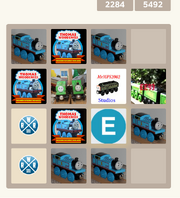 2048 TWR Community Edition is a stupid little game created by GingerPercy. It's the ultimate time waister! So check it out and spend 8+ hours a day on it!!
Ad blocker interference detected!
Wikia is a free-to-use site that makes money from advertising. We have a modified experience for viewers using ad blockers

Wikia is not accessible if you've made further modifications. Remove the custom ad blocker rule(s) and the page will load as expected.