EzCuldee is a remake channel that joined on March 22, 2015, although his original videos from March to June are all deleted.
The beginning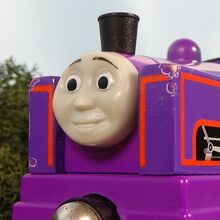 Originally started his channel being inspired by Keekre24 and Oliver Duck. So he made his own series on the carpet called The Culdee Chronicles that he made in one take. He also made his first set of reviews Roundhouse Reviews which are now deleted. Then he moved houses. He kept doing his series, but got YouTube Capture to edit videos.
The Rise of Remakes
Ez began to make changes to his channel, starting with quitting his series and making lots of reviews. He also started making TWR shorts with fishing wire. The best and biggest change to his career was getting a set made from blue and green blankets and card tables located in his room. Eventually he also tried rebooting his series as ThomasWoodenQuests, however it failed. Another big change happened in which he started using a real editor, iMovie. To revamp his set Ez got cloud paper, a model railway mat, and moved the set to his basement. Most of his remakes are from the TV series, although he makes RWS remakes occasionally. For these remakes, Ez bought many of 1990's trains.
The Present
Now Ez mainly focuses his time on remakes. He has made friends with people such as DuncanWoodenRailway,Woodenfan 1,TWRfan128,TWRProductions4,WoodenToby, Crimson2091, NorthWesternStudios, Roman'sTWREmpire, Ryatron12, The TWR Critic, Toby77 c, PokeBrick02, Sudrian Trainspotter, Thomas Wooden Remakes, Heisel Productions, and Domeless Engine.
The Future
Ez is not sure of his future on YouTube. He hopes to do Remakes and TWR shorts. Another goal for him is to meet more users and get more 1990's TWR items.