DieselDuckFan2001 is a new member to the community. He joined YouTube in 2013 but joined the TWRC community in late 2015 but officially joined in 2016.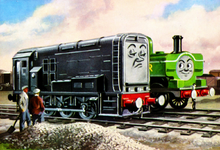 Humble Beginings on ToLudwigFan (2010-2011)
He started his first account in 2010 (Formally as toludwigfan) and made 4 different series but are now all private on his older channel. The only videos that remain are sneak peaks and Mario Videos. He only had a small amount of fans and soon left at the end of 2011.
New Era as DieselDuckFan2001
After closing down ToLudwigFan after limited success, he was idle in 2011-2012 but he soon returned in 2013 with a new channel known as DieselDuckFan2001. DDF2001 first started out making a video series called "TUGS: The New Era" in 2014 but hasn't released anything but trailers. Soon after being idle for a few months he then switched to Thomas, making first a 30th anniversary video. After that however, he reached a dark era and stopped posting videos all together.
Dark Era 1
DDF2001 had experienced a dark era on YouTube where he was slowly going down hill in a spiral of decline and slowly left YouTube for over a year. Some of his fans slowly forgot about him and eventually unsubbed, thinking he had left YouTube forever.
Return 1
DDF2001 was gone for a while until he returned in October 2015 where he create and released a series trailer in October of a series to be titled "Sodor Railway Chronicles". Not much else was known about the series at the time but kept news about it a lot. Although he had some attention for a while, he soon started to decline in viewing and soon left once again. He also cancelled Sodor Railway Chronically after one test pilot and one trailer.
Dark Era 2
DDF2001 left the community again towards the end of 2015 and people thought at this time that he had left the community for good. Even DDF2001 agrees that 2015 was not a good year for him.
Return 2
DDF2001 returned once again in January 2016 which he reuploaded his series trailer known as "Sodor Railway Chronicals" and returned to YouTube. In 2016, DDF2001 was busy, uploading a fair ammount of videos that year to make up for the "rather disappointing 2015". He worked hard and soon recieved a following and soon had a lot of friends and considered 2016 to be a very successful year as he made a lot a good content that year and hopes that he does the same in future years.
DieselDuckFan2001 today.
DDF2001 has currently over 130 subscribers and has made many new friends. He also has written scripts for his new series "The Island Of Sodor" to replace Sodor Railway Chronicals as it was chronically cancelled. He also recently picked up a lot of new items so he is hoping to create a series with them. DDF2001 has also made a twitter account: https://mobile.twitter.com/DieselDuckFan01
Ad blocker interference detected!
Wikia is a free-to-use site that makes money from advertising. We have a modified experience for viewers using ad blockers

Wikia is not accessible if you've made further modifications. Remove the custom ad blocker rule(s) and the page will load as expected.