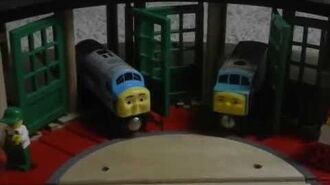 The D199 Review is one of the biggest crossovers so far in the Crossover Saga. It involved a total of 6 people, but the main reviewers were Ted (Oliver Duck) and MrMPS.
Plot
After a recap of Ted's last review, the review starts out with MrMPS bugging Ted about how he "betrayed" him by doing crossovers with other people. Ted, irritated, shakes off the accusations and points out that Sam (WoodenRS) did crossovers with people other then MrMPS. MPS claims that he doesn't care about Sam and this follows a short cameo of Sam himself. Then, MrMPS states that they are going to review D199. Ted tries to dissuade him by saying since he only has the 2013 version they couldn't possibly do an interesting review, but then MPS pulls the 2005 and 1996 versions out of his pockets, cheerfully reinstating the review. Ted tries again to dissuade him by saying WoodenRailwayReviews himself couldn't even review D199. This follows a cameo of Rob ranting about the model. Once again, MPS shakes this off. This follows yet another interruption by Ericpierre53, asking if he could join the crossover. MPS declines and he and Ted go ahead with the review as planned, making various jokes about the three models of D199, especially the 2013 model. Then, Eric tries again to join the crossover and is yet again declined by MPS. When the two are finished reviewing D199, MPS triumphantly calls WRR on Skype, claiming that WRR said it was impossible to review D199 and that he and Ted had done it. WRR dismisses him, saying he only said it was "difficult" because there was not a lot to talk about concerning the item. Despite this, MPS is still happy and he "releases" Ted from the crossover at last.
Behind the Scenes
The crossover was planned almost half a year ahead of it's release date and the writing of it was made over google docs as a collaboration between Ted and Matt. Yes, there was a time when Matt actually asked for a crossover, but the answer was fast and easy. Filming was standard, nothing too abnormal.
Trivia
Most of it was scripted, but the Mexican Wooden Railway part was not, it was improvised when filming.
Rob's bit halted the release of the video by over a month.
Ad blocker interference detected!
Wikia is a free-to-use site that makes money from advertising. We have a modified experience for viewers using ad blockers

Wikia is not accessible if you've made further modifications. Remove the custom ad blocker rule(s) and the page will load as expected.