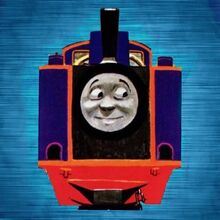 CrikeyFellRailway is a Australian TWR user on YouTube who joined on March 13th, 2013.
Origins
CrikeyFellRailway made his channel on March 13th, 2013, called Retroguy55. Since then he has gone through many name changes. "Retroguy" in mid-2013, "TheGreatWesternEngine" from January 2014-mid-late 2015, and CrikeyFellRailway, his current name. He started off making videos of varying topics, most of which are now deleted. This included remakes, discussions, top 10 lists, and reviews. After many hiatuses, he began making a series which adapted Railway Series stories during 2014. In 2015, he began a series called "Sudrian Origins", which lasted for 3 episodes before it was abandoned. He made a Twitter Account in mid-2015, and has made many friends on there. He is currently working on his new series.
Ad blocker interference detected!
Wikia is a free-to-use site that makes money from advertising. We have a modified experience for viewers using ad blockers

Wikia is not accessible if you've made further modifications. Remove the custom ad blocker rule(s) and the page will load as expected.