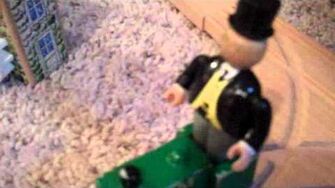 "Bulstrode's Boatload" is the seventh episode in Season 1 of Thomas the Tank Engine & Friends Wooden Railway Stories
Plot
When Neil brings Bulstrode some cargo to bring to the sheds, he carries more than what he should.  As he goes to deliver the packages, he crashes into Mavis and her trucks.  Harvey and Rocky help Mavis and the trucks back onto the tracks.  When Sir Topham Hatt comes with Neil, he sees that Mavis cannot carry the trucks anymore.  He sends Neil to push Mavis.  As Sir Topham Hatt goes into his car, Bulstrode starts to sink.  Luckily Harvey and Rocky pull Bulstrode to safety.  Sir Topham Hatt makes Bulstrode work overtime as a punishment. 
Cast
Bulstrode (main cast)
Sir Topham Hatt (main cast)
Neil (minor role)
Cranky (minor role)
Colin (minor role)
Mavis (minor role)
S.C.Ruffey (cameo)
Fred (cameo)
Rickety (cameo)
Harvey (cameo)
Rocky (cameo)
Sodor Bay Tugboat (cameo)
N.W. Breakvan (cameo)
Thomas (cameo)
Annie (cameo)
Clarabel (cameo)
Bertie (cameo)
Stanley (cameo)
George (cameo)
Thumper (cameo)
Lorry 1 (cameo)
Lorry 2 (cameo)
Lorry 3 (cameo)
The Replacement Lorry (cameo)
Trivia
First speaking roles for Bulstrode, Mavis, and Neil.
First appearances for N.W. Breakvan, Fred, and Rickety.
Ad blocker interference detected!
Wikia is a free-to-use site that makes money from advertising. We have a modified experience for viewers using ad blockers

Wikia is not accessible if you've made further modifications. Remove the custom ad blocker rule(s) and the page will load as expected.