BoCoTheDiesel is a TWRC user who joined on August 29, 2013, but his first upload was a year later in 2014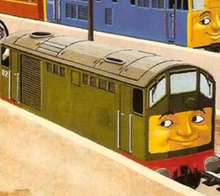 History
BoCo joined Youtube in 2013 and uploaded his first video is 2014, tilted 'Tender Engines Don't Shunt', he continued to upload videos regularly (most which are now deleted) until 2015/2016, when he took a long break.
Return
BoCo returned to Youtube, however instead of WR videos, he was uploaded Wiggles and Trainz videos.
He might return someday....