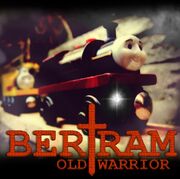 BertramOldWarrior a.k.a. Neil (formerly known as WoodenRails99), is a member of the Thomas Wooden Railway community.
Episodes
Bertram: Old Warrior
Neil had an idea for a new series in December of 2014 about Bertram and immediately set about designing and building brand new characters using different old Wooden Railway models. He and his close friend Rhyndale, planned and wrote several episodes for the new series. Some test footage was produced by both Rhyndale and Neil which featured an unrealeased test trailer which now currently exists. In late July 2015, Neil changed his channel name to BertramOldWarrior. The series officially premièred in September 2015 with the first episode Genesis. The second episode Adapt was released soon after and the series is currently airing at present. The series has its own Official Site and its own Wiki.
Sudric Saga
Neil's series, Sudric Saga, was launched on the 3rd November 2014, with the episode, Chain Reaction. Due to filming difficulties and a busy schedule, Neil took a 6 month break from YouTube and has confirmed that Sudric Saga is on hiatus.
Remakes
Neil was first inspired to do remakes by ThomasWoodenEpisodes and SkarloeyRailway01. Being a big fan of The Railway Series, Neil primarily does remakes of the Awdry stories.
Beginnings
Neil's first video was uploaded on February 21, 2014, which consisted of a test Thomas and Friends intro. His second video was a review of the 8-inch turntable. After that, he uploaded four themes, three of which he composed.
WR99 Reviews
Neil was first inspired to do reviews by Jlouvier. He did a review on the 8-inch turntable and, later, did an unboxing review on the Elsbridge Platform. However, Neil felt he needed to present his reviews better and start making his new reviews in a new style. The first of these new style reviews was on the Coal Hopper. 
WR99 Themes
Neil has currently done several characters themes from the Railway Series and from the TV Series.
Trivia
BertramOldWarrior's real name is Neil Lambert as seen on his Twitter and in his credits.
Ad blocker interference detected!
Wikia is a free-to-use site that makes money from advertising. We have a modified experience for viewers using ad blockers

Wikia is not accessible if you've made further modifications. Remove the custom ad blocker rule(s) and the page will load as expected.