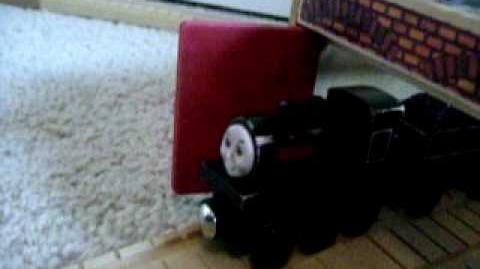 "A Scottish Tale" is the fourth episode of ThomasWoodenRailway's series Thomas the Tank Engine and Friends Wooden Railway Adventures, and is the fourth episode of Season 1.
Plot
Donald and Douglas are twin Scottish engines, and although they have worked on The Fat Controller's railway for quite some time, only one of them is pleased with the current state of events. Donald, who has his own coach and branchline, enjoys his job, while Douglas shunts in the Yard and doesn't understand what Donald did to earn the special treatment. After Donald gets trapped in the shed due to an accident caused by Fergus, however, Douglas gets to take Donald's train and does so with pride. When the engines at the Docks hear the news, they think an engine has made up the story, and decide who it is. In fact, all of them are wrong; Douglas rushes through with the coach, leaving the engines surprised and dumbfounded.
Cast
Donald
Edward
Fergus
Douglas
Percy
Gordon
Emily
Henry
James
Terence
Thomas (cameo)
Annie (cameo)
Clarabel (cameo)
Butch (cameo)
Tigermoth (cameo)
Trevor (cameo)
Harold (cameo)
Thumper (cameo)
Grey Troublesome Truck (cameo)
S.C.Ruffey (cameo)
Troublesome Truck (cameo)
N.W. Brakevan (cameo)
Oliver (cameo)
Duck (cameo)
Mavis (cameo)
Arthur (cameo)
George (cameo)
Duncan (cameo)
Rocky (cameo)
Turntable Master (mentioned)
The Fat Contoller (mentioned)
Toad (cameo)
Jack (cameo)
Alfie (cameo)
Cranky (cameo)
Toby (mentioned)
Trivia
First appearances for Donald, Edward, Fergus, Douglas, and Arthur.
First speaking roles for Donald, Edward, Fergus, Douglas, and Terence.
This episode was originally uploaded to Keekre24 sometime between June 20-25, 2008. It was reuploaded to ThomasWoodenRailway on March 12, 2009.